<!Dable>
A faulty Dyson V6 battery with red-light flashing by 32 times could be fixed by replacing the original BMS-PCB (battery management system - printed circuit board) by a third-party PCB. You have to check all the terminal voltages of each battery cell are over 3 V. If any is lower than 2 V, you may also need to replace the low-voltage 18650 battery cell or recharge it manually.
The below picture is the original PCB that I detached for a Dyson V6 battery.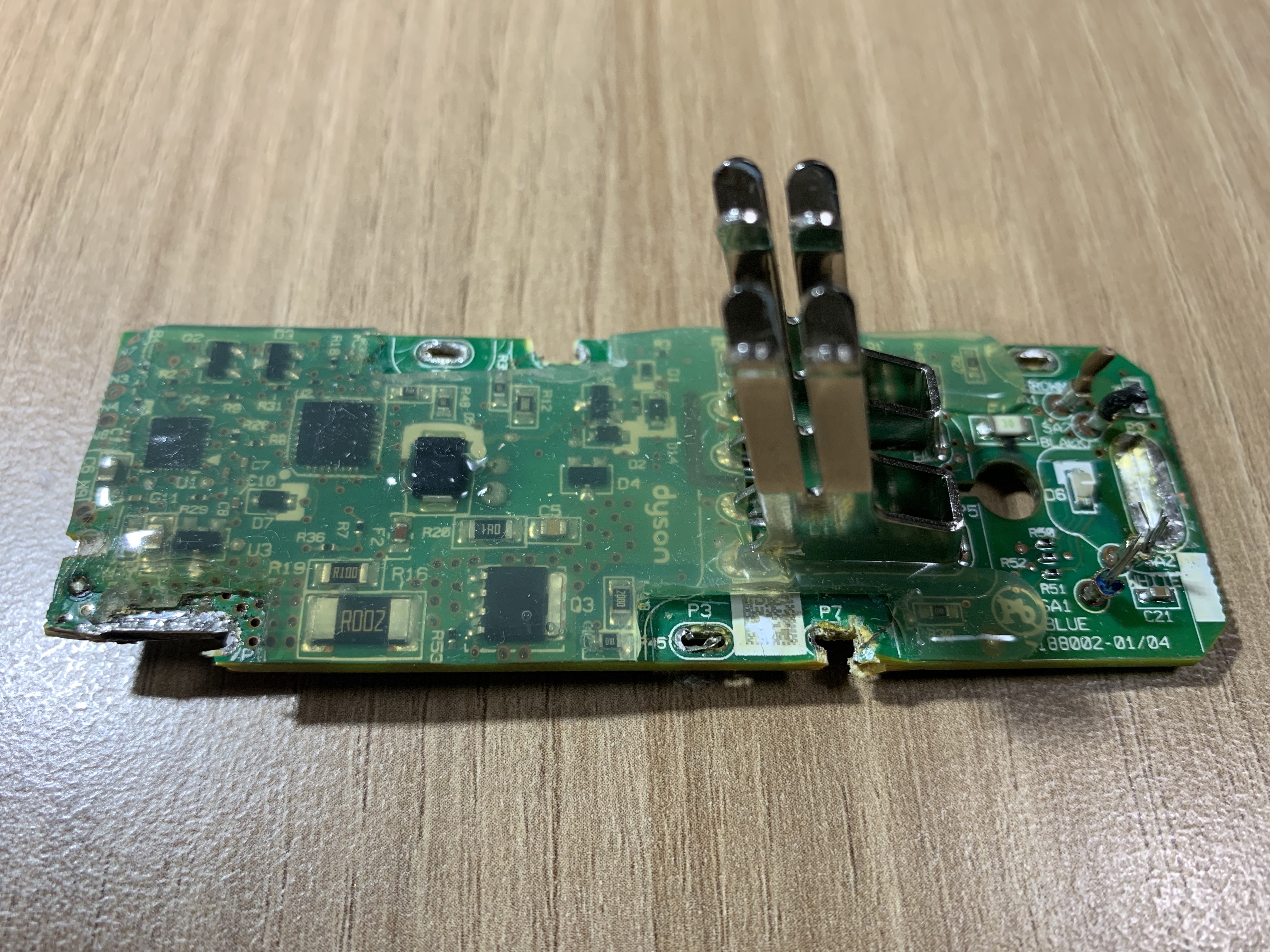 To buy a replacement PCB, I googled "Dyson V6 battery PCB". In the image search results, I got similar images from Aliexpress at first time and from Banggood.com at later. After careful comparison and research, I ordered a PCB of Aliexpress at about $13 including the new member promotion coupon ($3).
The store address was s.click.aliexpress.com/e/_9yjb2S and the below is the item I received from the online mall.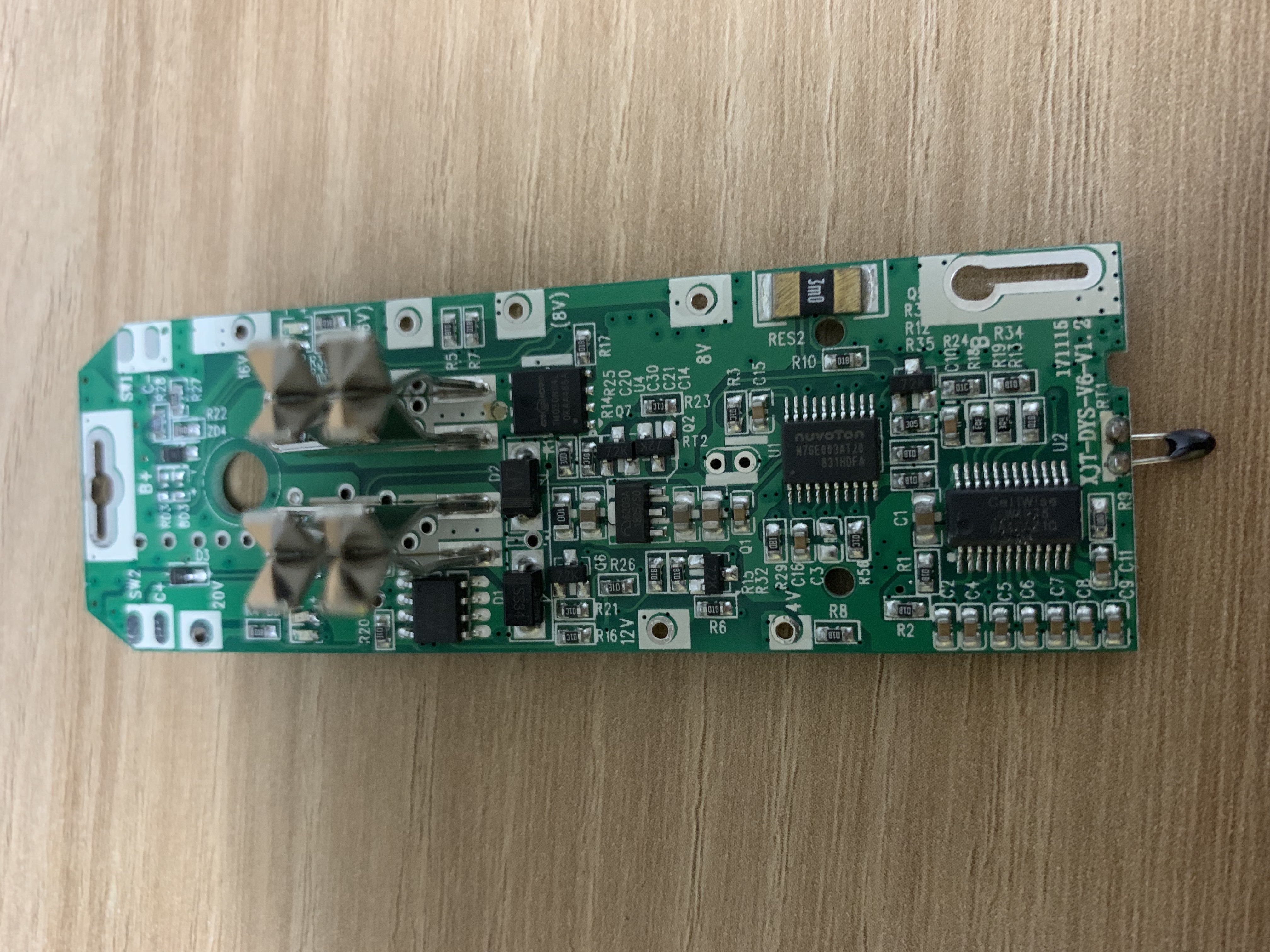 As I described before (https://drkimfixnsolve.tistory.com/28), the OEM and third-party PCBs are not same. Particularly, the side-terminal shape is different, and so is the location of the thermistor. After installing the third-party PCB to Dyson battery, however, it works perfectly. So I would say I am 100% satisfied.
My second Dyson battery (that I received as a warranty battery from Dyson) had the same issue of red-light blinking only after 1 year. In this time, I tried a different shopping mall, as I thought the Aliexpress PCB is a bit pricy.
Now I found a PCB from banggood.com at https://www.banggood.com/Power-Tool-Battery-Replacement-PCB-Protection-Board-For-Dyson-DC62-3_3-p-1384312.html and the price is only ~$6 including shipping. However, the item was quickly sold out after my purchase. Probably the stock is very limited. Anyway, the Banggood PCB is exactly same with the Aliexpress one. I don't understand why the price is only 1/3. After installing the PCB to the faulty Dyson warranty battery, it works perfectly too. I am satisfied by three fold.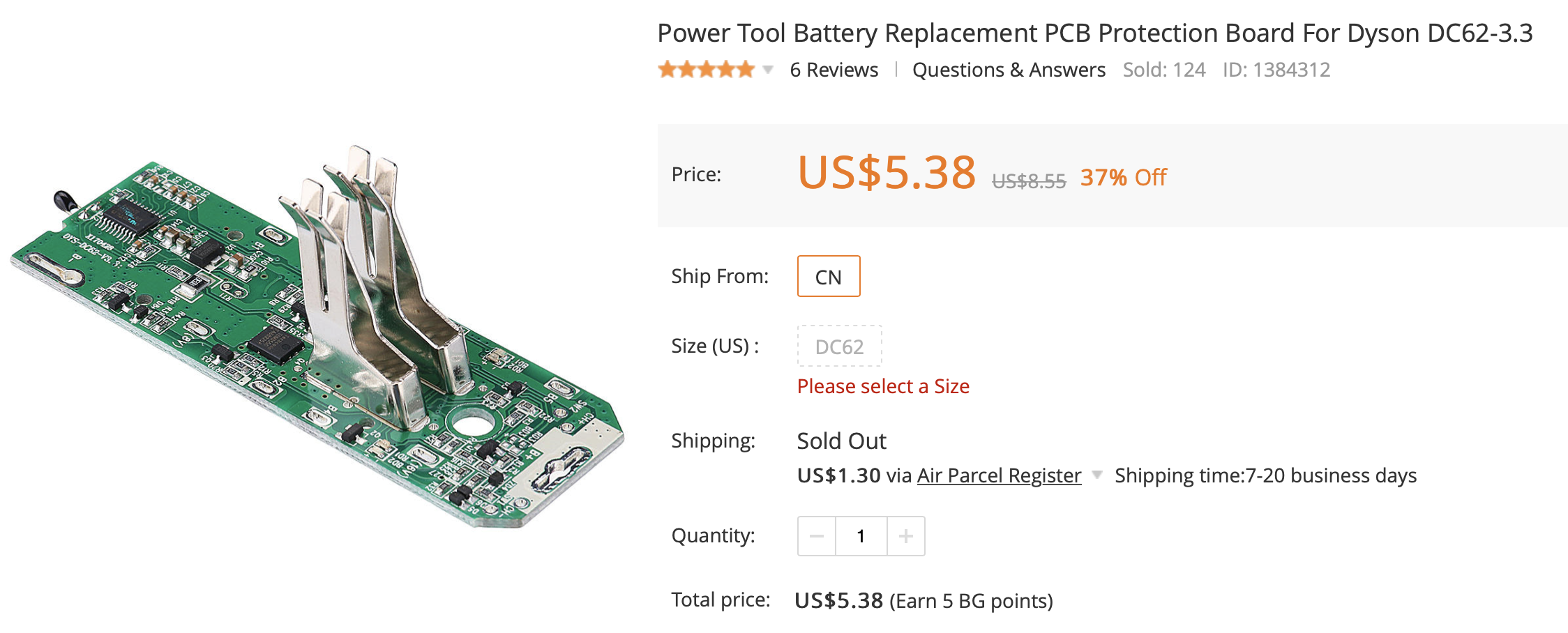 Recently I visited again the Aliexpress store and found that the seller changed their PCB product with a new design. It looks different from the OEM and also from the old one they sold. They changed the side-terminal shape and the location of the thermistor to be matched with the OEM PCB. Below is the picture of the PCB with a new design from Aliexpress.
s.click.aliexpress.com/e/_9yjb2S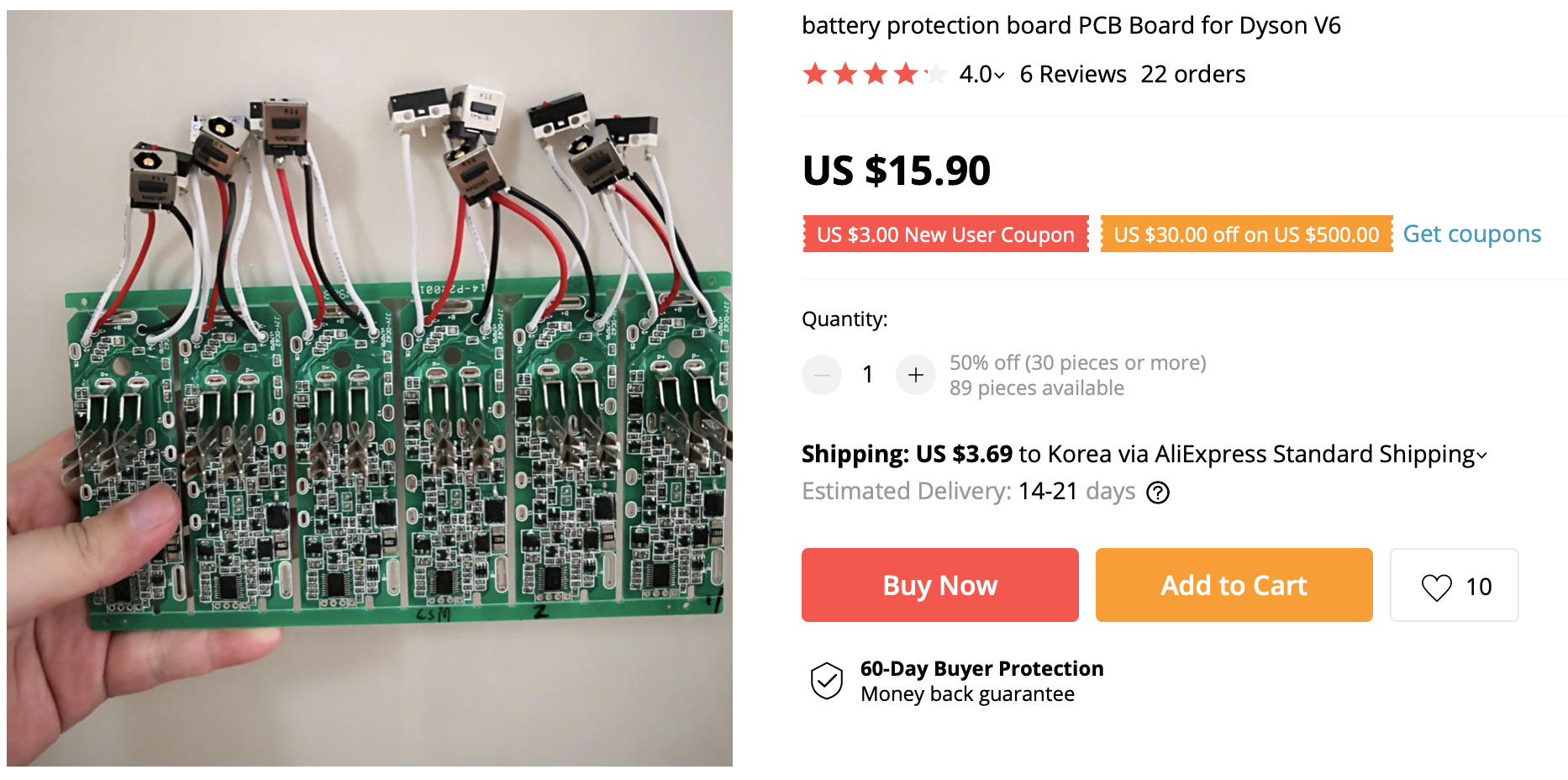 I haven't try this product and have no will to do it near soon, because I have no more faulty Dyson V6 battery. It is up to you who will try to install this new design to check its performance on Dyson red-light. At least the ads says it will work. If you have any good result, please give me feedback in the below comments to help others.
All right. It is your call which one you will try. Because I've got questioned a lot about where to buy the third-party PCB, I disclosed the shopping stores that I used.
Good luck on your Dyson vacuum life. Or let's sue Dyson!
(Updated 2020/9/29) Here are some slightly cheaper ones with good review records. Price is dropping.
s.click.aliexpress.com/e/_AldxRM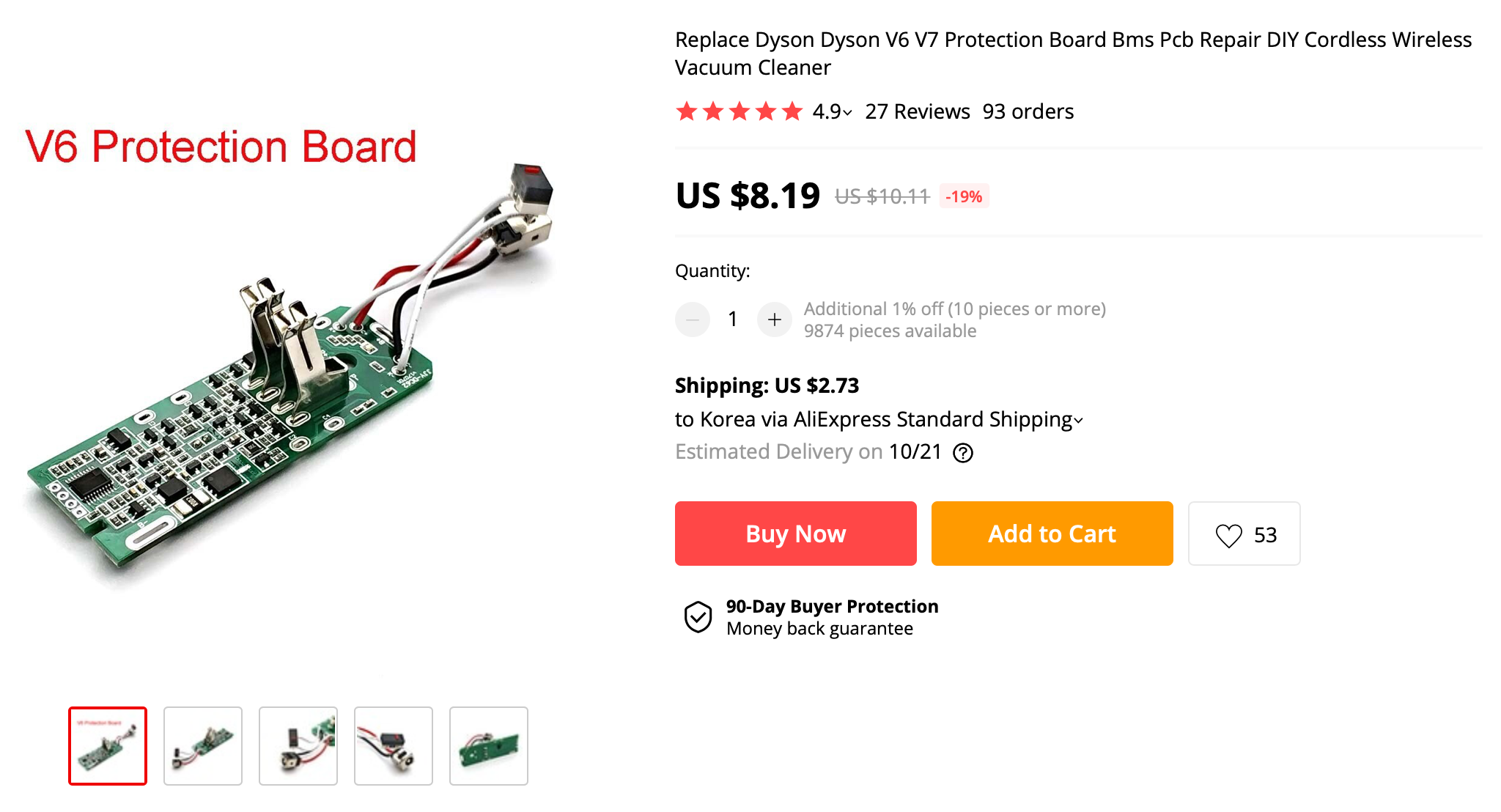 s.click.aliexpress.com/e/_Ancu2e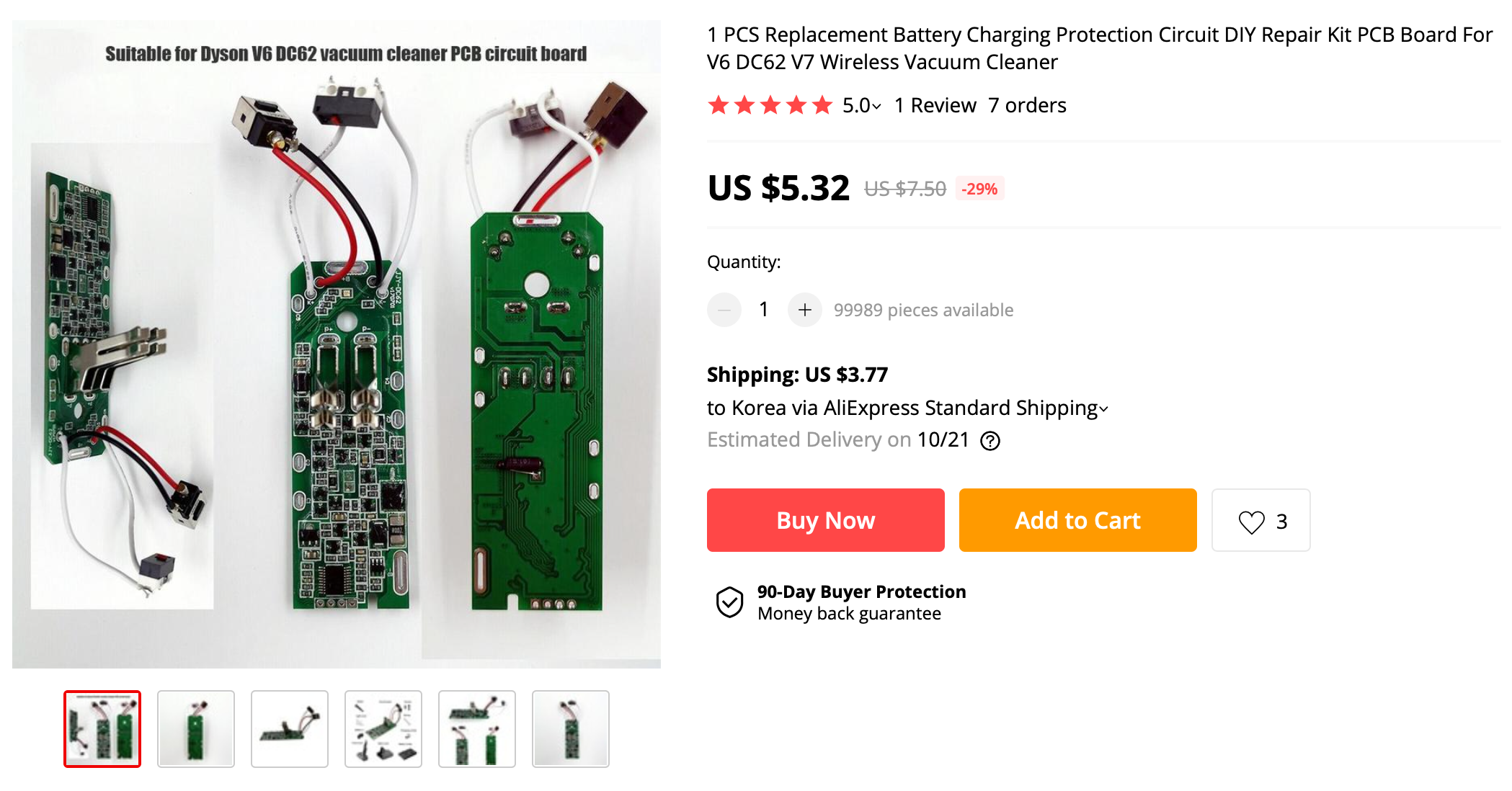 s.click.aliexpress.com/e/_ATo1AK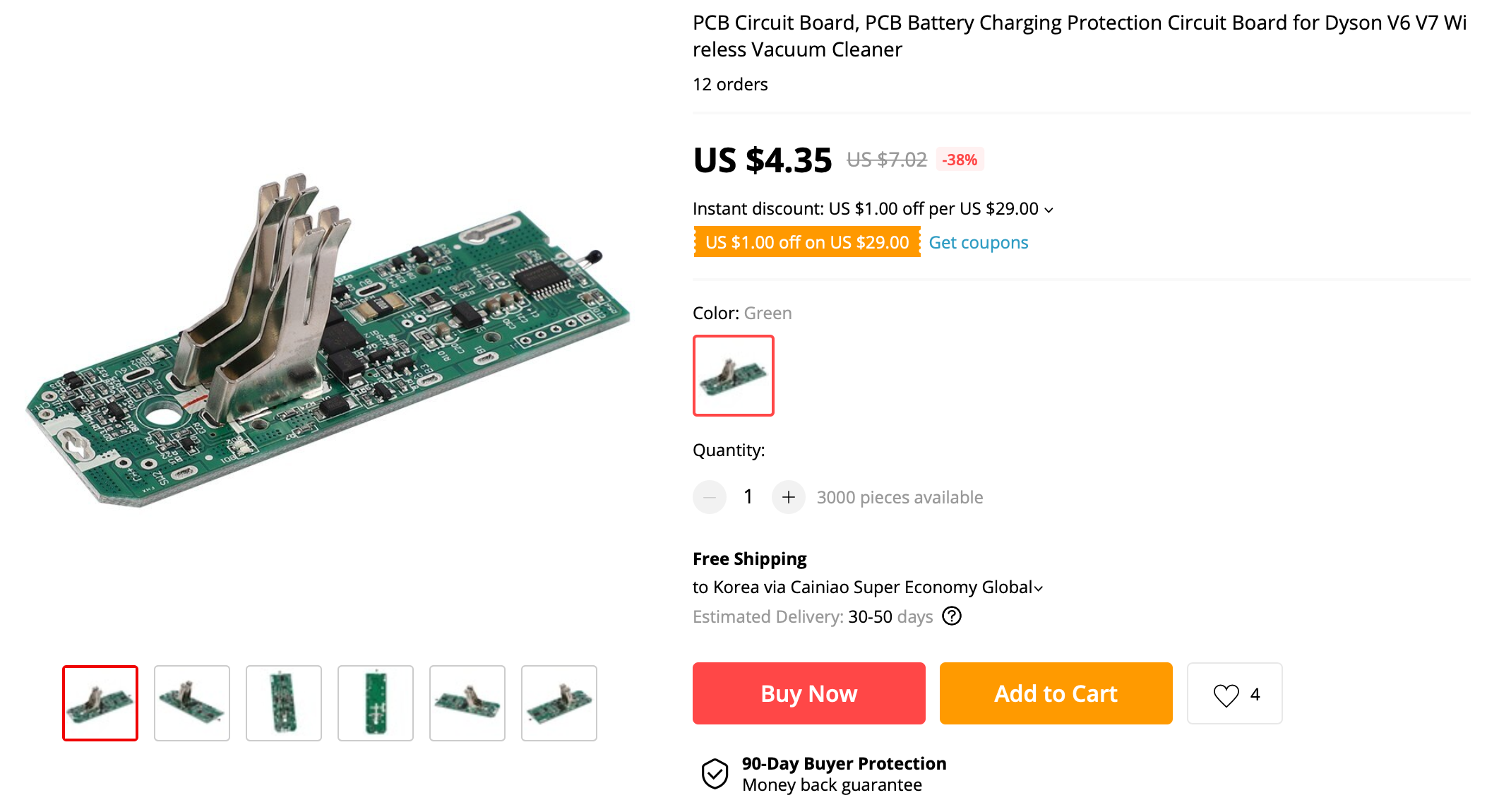 Please check their functionality at your own risk! I will keep post whenever I found a cheap replacement part.
(2021/2/4) From today, your Aliexpress purchase via the provide link could make some commissions to me through the Aliexpress Affiliate program. Thanks for your support! Try to use the new user gift below, too.